Operating Management Information System (OMIS)
OMIS service allows to facilitate and significantly improve information system (hereafter IS for the sake of brevity) service level, also small-sized ones, thanks to a more ripetitive task and process automation for his handling; discovery ICT mapping and asset management, their functional and performance monitoring through SLA Watch, provisioning and user administration, help desk and trouble ticketing, back-up, first level IT security management (password management, access rights profiling), event management and ICT problem resolution support, ICT change management support, interfacing with ICT suppliers support, monthly reporting.
Service OMIS allows to improve the service level provided by IS as perceived by users and, in most cases, enables a sensible cost reduction compared to the current situation.
In order to achieve these results, Malabo:
engineered methodologically its experience over the years, adopting a modular approach, flexible and based on main standard and world best practice, such as ITIL, COBIT, NIST, ISO;
contextualizes pragmatically OMIS about Client's circumstances at both technical and organizational level;
uses the technical and methodological instruments already in use at the costumer's place of businnes, or insert/replace with own tools, founded on smart and well-established integration services and software open source;
automates different activities and processes in order to manage them even remotely.
Activities and processes
The main processes planned in the operating management (ICT Operations and SOP Functions ITIL) include:
ICT Infrastructure operation management and central application on premise operating management
o Wired and Wireless Local Area Networks, LAN and WLAN, and related devices;
o Internet Connections;
o Security Devices (Firewall, DMZ, …);
o Server, Storage;
o PC and WS;
• Personal computing application's operating management;
• Application in service operation management, typically in cloud;
• Back-up management;
• Provisioning management;
• End and privileged users log management (the latter required by privacy Authority since 2008);
• Operation management ICT security tools;
• Correlation and reports centralized filtration of ICT resources to detect those are truly significant according to assigned criteria (use of expert system, artificial intelligence, machine learning);
• First degree help desk management and second level interface (for example: technical assistance for suppliers sw, hw, TLC);
Other processes and activities, carried out if required:
• SLA management, Service Level Agreement, both to suppliers and to internal users;
• Processing capacity and storage management of whole IS with increasing/varying of needs and audience (capacity planning);
• Availability management;
• Service continuity management (DR plane, Disastser Recovery, and its implementation);
• Change management;
• Measurement and services ICT reports;
• Management of ICT service knowledge provided (KM) => DB what to do in view of… => Help Desk enhancement;
• Contract technical management and relationship with suppliers and ICT maintainers.

The picture below shows a tipical example, in a real case, of activities and processes in OMIS. In picture's green boxes there are available Malabo online services and tools.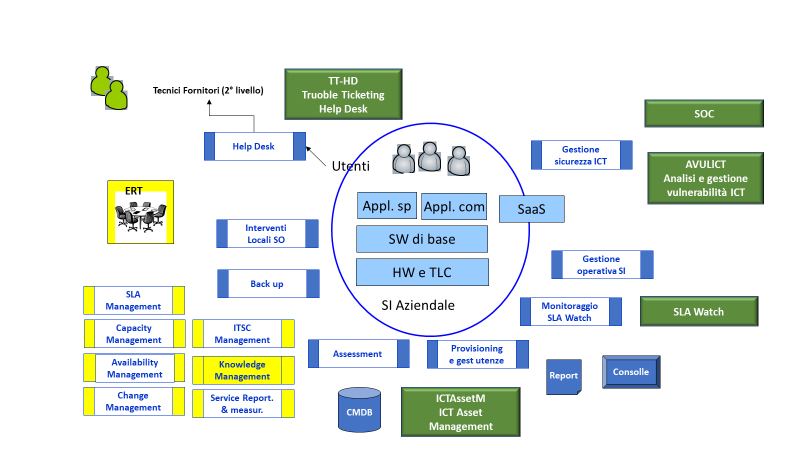 Traditional instruments used/available

• Instrument already in place within IS, if not obsolete or too expensive (nonetheless complying with the client's wishes);
• SLA Watch;
• ICT Asset Management to detect ICT resources in use, from hardware to software: it allows to create CMDB, Configuration Managemente DB and license management;
• TT-HD, Trouble Ticketing system for help/service desk;
• Tool for sharing documentation in intranet;
• Webinar and e-learning system for awareness and training of IS users.
Services and instruments complementary but integrable in OMIS are SOC for digital security managing and AVULICT for vulnerability assessment and management of ICT systems.
The picture below outlines IS user interaction with OMIS.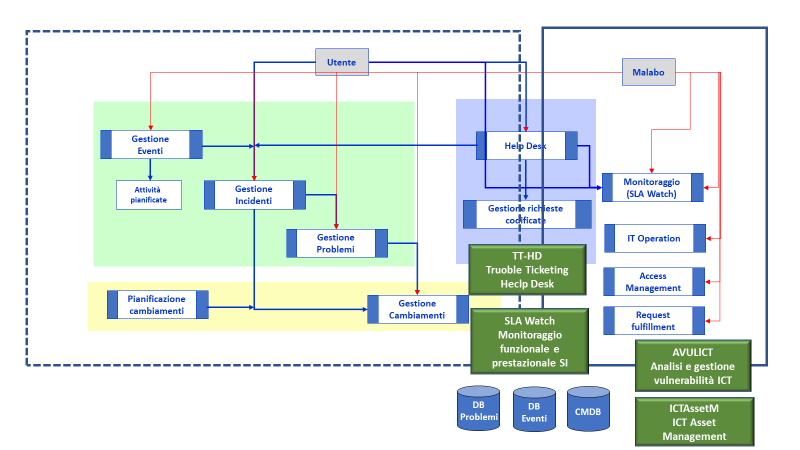 Customer benefits

• High customization: OMIS service is totally personalized on specific needs and on client's organization, thanks to approach's modularity and tools used for automation;
• High flexibility: the Client can choose which activities and processes managing by Malabo and which one by internal staff or by third party;
• Thanks to competence and experience of Malabo's staff/partner, OMIS is implemented quickly and conveniently;
• Systematic and continuative support to IS user, with clear tracking of any activties and time taken to achieve them.