Malabo has its own computer lab, partly on on premise systems and partly in the cloud. It is used to test the technical characteristics and functionality of software products, mainly open source ones, and above all to test the technical solutions proposed or to be proposed to customers.
The Laboratory, created and managed by the Malabo's Partner Cesa Bianchi, mainly consists of:
on premise: from a set of 5 hardware servers plus a NAS storage unit, connected together at high speed and fiber optic to the Internet; they virtualize several virtual servers, mainly in Linux, and on which tests are currently being conducted (and therefore experience in the field, on the most modern cluster, docker and kibernetics techniques, as detailed below;


in cloud: an IaaS at a consolidated and authoritative Cloud Provider, on which application environments to be tested functionally and technically are installed from time to time.
The figure below highlights the characteristics of the hardware on premise.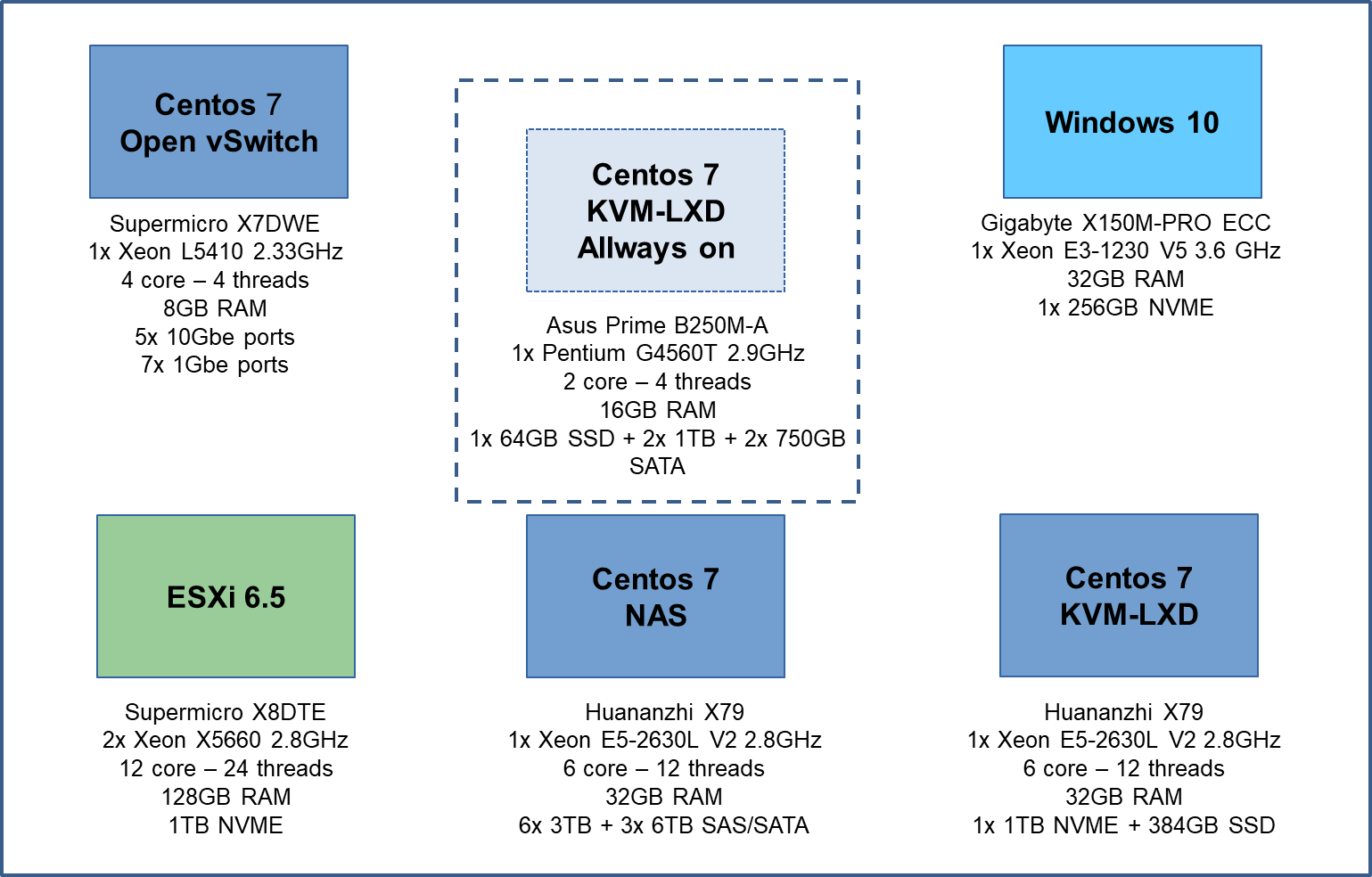 The internal network is entirely 10Gbe in copper with a fiber section and SFP + connectors. An internal Gigabit network has the backup function. The entire internal network is managed by a self-built switch based on SW OpenSwitch and hosted on a Centos 7.
Access to the network is controlled by an OPNSense firewall on the KVM / LXD server which can be replaced, if necessary, by an identical one on the server called Always on which is currently normally (despite the name) turned off. The connection to the Internet is via 1Gbe fiber.
The ESXi 6.5 machine houses Windows VMs (XP, 7 and 10), an Ubuntu VM, a Centos VM with KVM / LXD functionality and a couple of test VMs for the Kubernetes cluster. The intention is to replace it with a machine of equivalent characteristics but with more recent generation processors and lower consumption.
Storage mostly resides on the NAS machine, based on Centos 7 equipped with LSI SAS / SATA controller and the disks are organized in ZFS pools (RAIDZ1) and redistributed via SMB / CIFS and iSCSI share.
The spread of the use of containers (both in the form of LXC / LXD and as Docker and its evolutions) made the situation very fluid. Currently there are several LXD containers distributed on the various servers and which manage a couple of MySQL clusters (MariaDB-Galera), 3 instances of Wordpress and 3 of Joomla, 2 load balancers HAProxy and some copies of sites of which the update on these machines and which will then be deleted.
There is currently also a Kubernetes cluster whose nodes are: 2 on the ESXi server and 1 on KVM Centos. It is in the initial testing phase but the goal is to replace most of the current LXD containers.
The systematic use of the laboratory, in particular to test the solutions proposed to customers, is an appreciated factor for Malabo's success and to gain trust and authority from the customers.