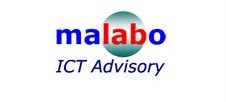 Malabo Srl is a management consulting company on ICT, Information and Communication Technology, that is also able to offer online support services to its Customers as a continuity element of its consulting intervention and a continual knowlege tranfer.
Malabo was created at the beginning of 2001 by Marco R. A. Bozzetti, which is now its CEO.

The "flat" organizational structure of Malabo, based on few highly experienced and competent professionals, working with the company since its creation, and with the collaboration, project by project, of other "external" experts and of some ypher-specilized companies, allows to be very agile and flexible with all the suitable technical and functional skills necessary to carry out the Client's requests at the best, in the times and on the budget, and at the same time to keep the fixed costs low,

The common denominator of each intervention is to concretely help the Client in the effective and efficient use of ICT in order to increase the measurable value for his business and for his activities.

The Malabo Work Team operates for the effective solution of what the Customer requires also thanks to:
the passion for ICT of its professionals
their continuous updating
their long technical experience at both the managerial level
their constant attention to innovation
their ability to work in a team even with the Customer's staff
their systematic use of ICT tools to support consultant and design activities.

The main competitive advantages of Malabo, at least as perceived by its main Customers, include:
the effective, consolidated experience and the updated competence of the professional people, from which derives the simplicity, speed and economy of the intervention
the contextualization of the intervention on the reality of the Client with the realization of tailor-made solutions and of effective transfer of knowledge
the reference to international standards and the most consolidated best practices.

Malabo has an ICT laboratory consisting of some powerful physical servers in highly reliable configuration, with VMWare ESXi with shared storage, connected with 10 G switches and connected to the internet with 100 Mbps optical fiber, as well as a cloud space on which to install and test virtual servers with different types of operating systems, middleware and applications.